We personally test CBD products and may earn a commission if you shop through the links on this page. Here's how we make money.
Austin and Kat is a pet-focused brand that offers CBD chews and oils for dogs and cats infused with multiple botanical ingredients. I tested out its CBD oil, chews, and topper with my four-legged companions Max and Delilah.
Summary
While there's room to improve, Austin and Kat is a good option for pet owners interested in CBD. Max the pitbull thoroughly enjoyed the CBD chews he tested.
Pros:
THC-free products
Functional, multi-ingredient formulas for different pets and specific benefits
Multiple product strengths
Positive customer reviews
Cons:
The production process is not described
A few products contain the wrong type of CBD
Use coupon code WalkWithAustinAndKat for 15% off
Austin and Kat Overview
The Austin and Kat story began in 2014, in Kat Donatello's kitchen in Maine. She was inspired to make CBD-infused treats to help her aging dog Brady.
Kat's treats were popular with her friends and their dogs, so much so that she decided to turn it into a business. She gradually refined the recipes and launched Austin and Kat 2016. The company operates out of Seattle, WA, providing CBD health and wellness products for dogs and cats.
All products are still made by hand, in small batches, using local ingredients, which is unheard of in the CBD industry. They're also safe for humans, so you can eat them right along with your pet if you're so inclined.
Austin and Kat sources hemp extracts from a supplier that grows its hemp in Colorado.
CBD Terminology
Hemp: cannabis variety with high CBD and low THC levels (no more than 0.3%).
Minor cannabinoids: CBN, CBG, CBC, and other beneficial cannabinoids found in smaller amounts in hemp. They may work in synergy with CBD.
Full-spectrum: whole-plant hemp extract containing multiple cannabinoids, terpenes, and flavonoids. This form of CBD is about four times more potent than pure CBD (2).
Broad-spectrum: whole-plant hemp extract similar to full-spectrum CBD, but with THC removed (may contain trace amounts).
CBD isolate: pure CBD without any other hemp compounds.
Austin and Kat Product Lineup
Austin and Kat has an impressive lineup for a pet-only brand. It offers CBD for your pets in the form of oils or chews and has a good selection of formulas for different health benefits.
CBD Oils
Austin and Kat carry several different CBD oils for pets, with a variety of strengths and special formulas designed for specific benefits.
Everyday Wellness CBD Oil
| | |
| --- | --- |
| CBD Potency | 3.3-40 mg/ml |
| Volume | 30 ml |
| Total CBD | 100–1200 mg |
| Cost per mg CBD | $0.08–0.25 |
| Type | Broad-spectrum |
| Flavors | 2 |
| Third-Party Test | View report |
The Everyday Wellness CBD oil comes in regular strengths with 3.3-10 mg of CBD per serving, as well as extra strength options with up to 40 mg of CBD per ml.
These tinctures also contain CoQ10, a popular supplement touted for its heart and other health benefits, and black pepper fruit, which may enhance the absorption of CBD (3). But the minor cannabinoid levels are a tad low.
My experience: I added the 600 mg oil to the food of Max the friendly pitbull and Delilah the curious Maine Coon. Max seemed to act more chill afterward while Delilah was her usual relaxed cat self.
Functional CBD Oils
| | |
| --- | --- |
| CBD Potency | 5–15 mg/ml |
| Volume | 30 ml |
| Total CBD | 150-450 mg |
| Cost per mg CBD | $0.14-0.23 |
| Type | Broad-spectrum |
| Formulas | 5 |
| Third-Party Test | View report |
The special formula CBD oils help pet owners deal with specific health issues. You can choose from five formulas containing unique ingredients alongside CBD:
Bailey's no more wiggles oil is designed to help dogs with anxiety and everyday stress
Harper's immunity oil is made to boost your dog's immune system
The cat CBD oil is designed to support your feline companion's health
Bakko's hip and joint oil supports joint health
Brady's senior formula oil supports the overall health of older dogs
CBD Chews
These soft-baked dog chews provide the same CBD oil formulas but in a tasty, edible form.
Everyday Wellness CBD Soft Chews
| | |
| --- | --- |
| CBD Potency | 2.5-10 mg |
| Chew Count | 30 |
| Total CBD | 75-300 mg |
| Cost per mg CBD | $0.15-0.33 |
| Type | Broad-spectrum |
| Flavor | 1 |
| Third-Party Test | View report |
The Everyday Wellness CBD Soft Chews are based on Kat's original home kitchen recipe.
They come in three different strengths of 2.5, 5, or 10 mg of CBD per chew, so you can choose the one that fits your dog's size.
They are made in small batches and come in a tasty peanut butter apple flavor. In addition to CBD, these chews contain turmeric and other beneficial botanicals.
Functional CBD Chews
| | |
| --- | --- |
| CBD Potency | 12-14 mg |
| Chew Count | 30 |
| Total CBD | 420 mg |
| Cost per mg CBD | $0.12-0.14 |
| Type | Isolate? |
| Formulas | 4 |
| Third-Party Test | View report |
Austin and Kat also offers four special CBD chew formulas inspired by the functional CBD oils:
The Senior Blend chews are intended for dogs that are 6 years and older
The No More Wiggles formula is made to help dogs cope with daily stressors, especially if you have an anxious pup
The Hip and Joint formula is formulated with ingredients like ginger, l-carnitine, and glucosamine to promote proper joint health
The immunity chews have slightly less CBD (12 mg) and carry immune-boosting ingredients like mushrooms and ashwagandha
While we like these formulas, they seem to contain pure CBD rather than broad-spectrum CBD.
My experience: My friend's 9-year-old pitbull Max absolutely loved the senior blend treats. He kept asking for more and seemed to act more mellow after eating them.
Supplement Meal Toppers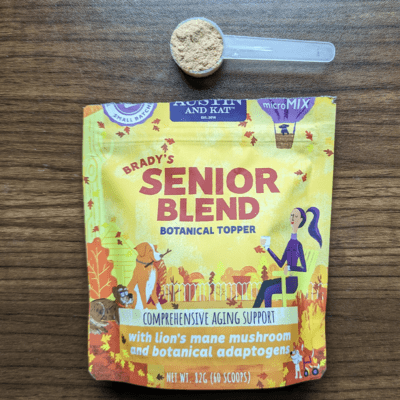 | | |
| --- | --- |
| CBD Potency | N/A |
| Type | N/A |
| Formulas | 6 |
| Third-Party Test | N/A |
These supplement toppers can be added to your pet's regular food. They don't have any CBD but contain other beneficial active ingredients inspired by the brand's CBD-infused chews.
You can choose from six formulas:
Daily joint support with green mussel and curcumin
Bakko's joint support with green mussel plus glucosamine, Boswellia serrata, curcumin, and reishi mushroom extract
Harper's mushroom medley for immunity, with chaga, cordyceps, lion's mane, maitake, reishi, shitake, and turkey tail mushrooms
Brady's senior blend with fish oil, lion's mane, ashwagandha extract, cranberry, nutritional yeast, glucosamine, blueberry, and curcumin
Bailey's no more wiggles topper with ashwagandha, Icelandic kelp, spirulina, valerian, king trumpet mushroom, and passionflower
Purrfect feline formula topper for cats with fish oil, Icelandic kelp, cranberry, maitake mushroom, yucca root, and l-theanine
My experience: I got Brady's senior blend topper for Max, my friend's 9-year-old pitbull. He wasn't as thrilled about eating it as the chews but he did finish most of it with his food.
Price & Value
The easiest way to compare the prices of different CBD products to see if you're getting a good deal is to divide the total cost by the amount of CBD. For example, if you have a 1500 mg CBD oil that costs $100, its price per mg would be 100/1500 = $0.07.
Austin and Kat's prices are:
$0.08-0.25 per mg of CBD for CBD oil
$0.12-0.33 per mg for CBD chews
These prices are a little high. Having said that, many of the products contain other beneficial ingredients and there is free shipping on orders over $50. You can also subscribe for 15% off.
But overall, we think the prices should be a tad lower. You can find cheaper pet products elsewhere.
Hemp Source and Extraction Process
Austin and Kat uses broad-spectrum hemp extract provided by a company called Treehouse Biosciences. This company's organic hemp is sourced from Colorado, the heartland of America's CBD industry.
While we prefer brands that grow their own hemp, we like that Austin and Kat is transparent about their hemp extract sourcing. Still, we'd like to see more info about how this hemp is grown and extracted.
Third-Party Testing
Austin and Kat works with Columbia Laboratories, one of the leading hemp & cannabis testing labs in the country. It does two rounds of testing.
First, it sends the raw hemp extract to be tested for potency and contaminants before it goes into any Austin & Kat product, posting the results under the input analysis section of its lab reports page. It also sends the finished products for potency testing to make sure they're accurate.
We examine some of these potency tests in detail below.
Third-Party Test Results
We always check third-party lab test documents to confirm that CBD companies sell safe and accurate products. More specifically, we look at:
The levels of CBD, which should be within 10% of the label (3)
The levels of THC
The levels of minor cannabinoids like CBG (the more, the better)
Whether there are any contaminants
Whether the CBD type (full or broad-spectrum or isolate) is accurate
The product tests we looked at (see test CoAs above) showed the right amount of CBD (within 10% of the label), which is great.
Our only complaint is that the functional chews only appear to contain pure CBD isolate instead of the broad-spectrum CBD advertised on the label. For example, you can see that only CBD was detected in the third-party test of Brady's senior blend chews shown above.
Shipping & Returns
Austin and Kat offer free shipping on orders over $50, which is pretty standard. Shipping is $7 if your order is under $50.
Their website says they ship from Seattle on Monday, Wednesday, and Friday of every week. They try to process all orders within 48 hours, and they ship USPS.
There's also a 30-day money-back guarantee. If you are not satisfied with your product, you can contact their customer service team within 30 days of delivery.
Customer Service & Reputation
Although Austin and Kat isn't the biggest name in the CBD space, its customer reviews are excellent.
With over 1000 customer reviews in total, Austin and Kat's products are close to a five-star rating. On top of that, 95% of reviewers would recommend these products to a friend.
We also like the fact that the company was created by a pet owner who formulated the products herself.
Our Verdict: A Great CBD Brand for Pet Owners
Austin and Kat is a solid pet CBD brand. The natural botanicals, herbs, and other ingredients that the company uses provide added benefits and help the company stand out. And my friend's pooch seemed to like their chews.
I also like that the products are made by hand in small batches and use human food-grade ingredients, making all of its pet products good enough for us to eat, if we really wanted to.
But the company's prices are a little high. I'd also like to know how the hemp extract is made and some products seem to contain the wrong type of CBD.
Use coupon code WalkWithAustinAndKat for 15% off
Gleb is a freelance writer from Vancouver, Canada specializing in CBD and cannabis. He's read thousands of studies on CBD and other supplements, helping him translate complex science into plain language. Gleb has tried and reviewed dozens of CBD brands and products, written third-party testing reports, and knows the CBD industry inside and out. When not writing, he likes to kickbox, travel, and tell everyone how awesome intermittent fasting is.